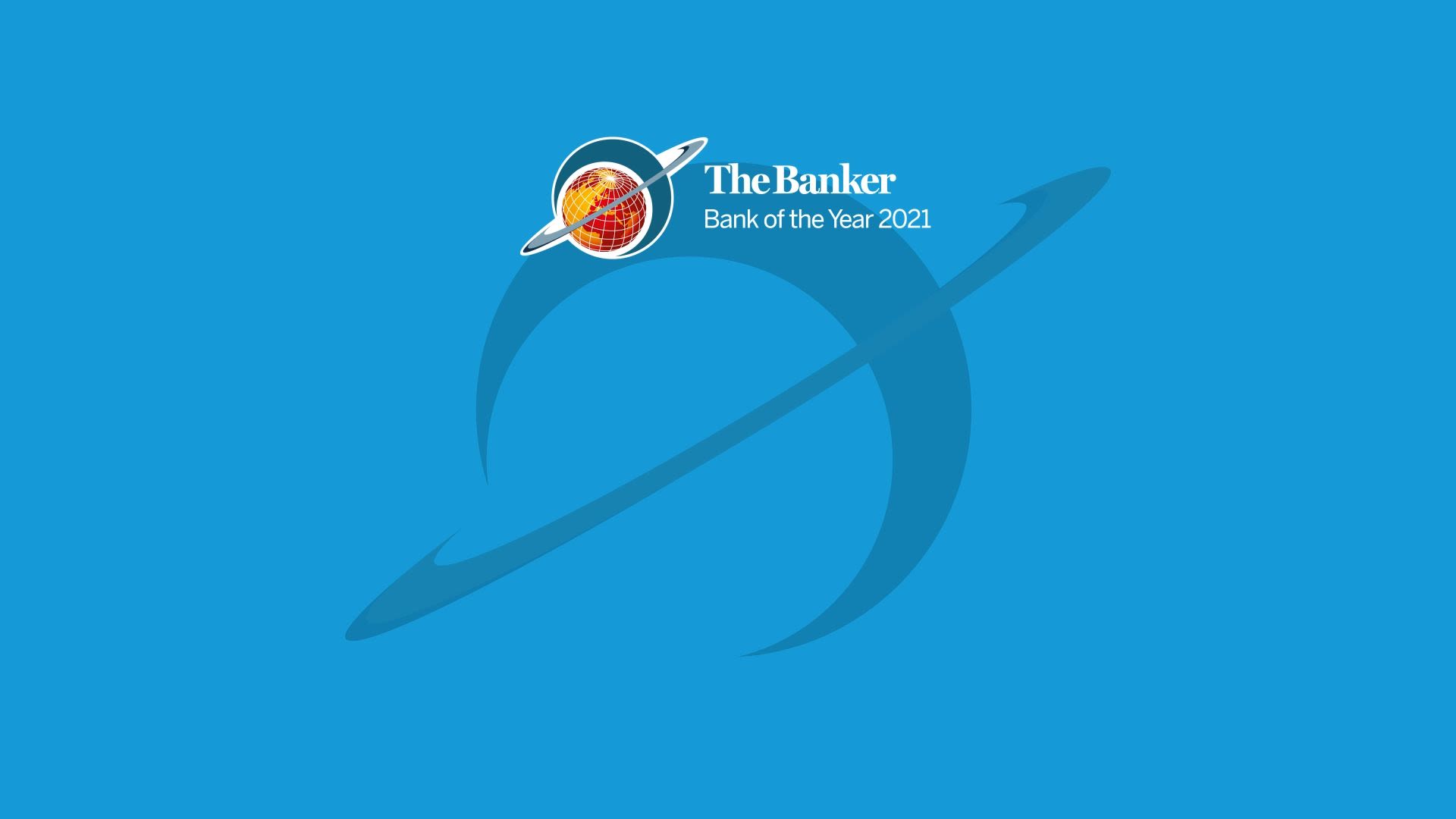 Global
Even in a region with a global reputation for the greatest levels of innovation and forward-thinking banking services, DBS shines as it leads the way with fresh thinking and market-leading technology services.  
DBS has taken the award for Global Bank of the Year after demonstrating how it was not simply exploring the most modern technology in banking, but is actively at the cutting-edge of its implementation, leaving other banks around the world in its wake. 
Since the bank last won the global award in 2018, there have been multiple business challenges to contend with, not least the Covid-19 pandemic. But what DBS demonstrates is its unflinching dedication to providing best-in-class products and services, regardless of the obstacles that stand in its way.  
Where other banks are still adapting to digitisation, DBS has developed services on the blockchain. The bank established the DBS Digital Exchange (DDEx), which allows both institutions and accredited investors to access a fully integrated tokenisation, trading and custody space for digital assets. Held as a private exchange, the system has strong governance in place, providing peace of mind to investors.
Working in collaboration with JPMorgan and Temasek, DBS developed Partior, an open platform for cross-border payments. Hosted on the blockchain, transactions can be executed immediately at any time of day. The platform has been designed to be interoperable with external blockchain networks, creating opportunities to expand into other forms of fund transfer. Working with Contour, trade finance services on the blockchain were introduced, supporting cross-border letters of credit. In addition, in partnership with AntChain, DBS has introduced a trade platform focused on supporting small and medium-sized enterprises in international trade. 
Through utilising artificial intelligence (AI), the bank has created the DBS Nav Planner, providing customers with detailed insights into their financial positions. Utilising more than 100 AI models, the Nav Planner gives customers a personalised balance sheet, with a full overview of their financial position across multiple banks, covering products including savings, insurance plans and pension funds. The platform will track a customer's financial health to advise whether they need to increase their savings or insurance coverage, and give advice on how to achieve these goals. 
Further functions include Map Your Money, an interactive dashboard to simplify retirement planning, and Make Your Money Work Harder, to help customers understand investing, determine their investment profile and ensure they meet regulatory requirements. To date, more than two million customers have signed up to Nav Planner, with 400,000 of them becoming net savers. 
Additionally, the bank partnered with Singapore Exchange, Standard Chartered and Temasek to establish a global exchange and marketplace for carbon credits called Climate Impact X. And, again working with Temasek, DBS launched EvolutionX Debt Capital, a $500m debt financing platform for growth-stage tech-enabled companies across Asia. 
Piyush Gupta, CEO at DBS, says: "Winning Global Bank of the Year from The Banker tops off another year of outstanding global accolades for us. Throughout this challenging year, we were able to strongly support customers, employees and the wider community, while maintaining a solid financial position. Over the past 12 months, as part of our efforts to further reposition ourselves fundamentally as a bank of the future, we took stakes in banks in India and China to cement our position in Asia."
He continues: "We also identified several big business ideas that would define the post-pandemic world – hyper-digitalisation, supply chain shifts and an increased focus on sustainability – launching several key initiatives on the back of this: digital and carbon exchanges, a blockchain payments joint venture, and our AI digital advisor Nav Planner. Looking ahead, we will continue to leverage game-changing new technologies, such as blockchain and AI, and remain at the forefront of innovation to serve our customers better."   
Singapore
DBS has scooped the award for Bank of the Year Singapore again, as the bank continues to show its strength in offering cutting-edge technology alongside strong banking services. 
The bank looks to explore the opportunities that new technology offers by creating a next generation suite of banking services for its customers. The bank launched the DBS Digital Exchange (DDEx), a private exchange built on the blockchain that allows both institutional and accredited investors to easily access the ecosystem. The platform has robust governance in place for investors' peace of mind. 
DBS also looked at bringing about the digitisation of trade finance using blockchain, in conjunction with Contour and AntChain. DBS joined Contour's blockchain in May 2020 and completed its first letter of credit (LC) transaction within two months. Following this development, the bank was able to start offering digital LCs to customers in China, Hong Kong, Australia and Singapore. Through the partnership, DBS provides an end-to-end process that helps to reduce paperwork and settlement time, reducing the time to process an LC by up to 90%. 
Further, DBS was the first Asian bank to join AntChain's blockchain trade platform, Trusple, for distributors and suppliers to access real-time digital trade financing services. It is hoped that the service will help to encourage greater adoption of digital trade services, especially among small and medium-sized enterprises (SMEs), which often face difficulties when attempting to complete cross-border trades. Within six months, DBS had undertaken its first trade financing transaction on Trusple, valued at $40,000, on behalf of Singaporean SME iQuartz. 
Customers of all ages were given a boost with the implementation of DSB NAV Planner. Integrated into the bank's existing app, the service leverages big data and artificial intelligence to give customers oversight of their finances, and make informed decisions on how to make best use of their funds. Services include a simplified retirement plan and investment advisory to help people to successfully navigate the markets and minimise risk.